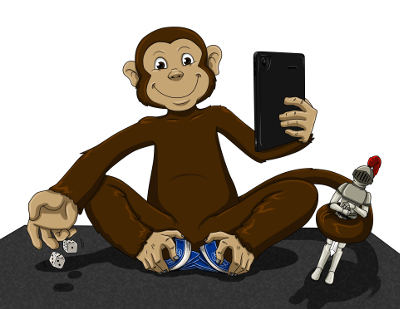 Table Monkey
Gaming is more fun when Table Monkey is there!
Table Monkey comes complete with:1
Online Set-up and Tracking Tools
Game Reference Manuals and Guides
Videos to Enhance your Gameplay
1. Barrels sold separately.
---
Table Monkey is still in training, so keep checking to see what more he can do for you!
Legendary™ Wheel of Fate!
We built a feature-rich Game Set-up tool for Uppder Deck's Legendary™ System - Marvel, Encounters, Buffy, Big Trouble in Little China!. One of it's main function is to help randomize the set-up, but it's feature go far beyond a mere randomizer!
Key Features:
Quick Set-up Option - Just select # of plays an Assemble your Team!
Ability to choose which Expansions to include
Randomization Choices by Slot - Choose a specific Hero, Villain, Henchmen, Mastermind, Team, or even Gender!
Exclude specific Heroes, Villains, Villain Groups, Mastermind, and Schemes
And more!
Spin the Wheel of Fate! >>
Tanto Cure Randomizer
Another of our features is a randomizer for the Tanto Cure Maid Themed Deck Building Game. The randomizer will help you quickly set-up the Town, and allow you to adjust settings so you can play the game the way you want!
Randmizer >>